YOU HATED SPAIN

Spain frightened you. Spain
Where I felt at home. The blood raw light,
The oiled anchovy faces, the African,
Black edges to everything, frightened you.
Your schooling had somehow neglected Spain.
The wrought iron grille, death and the Arab drum.
You did not know the language,your soul was empty
Of the signs, and the welding light
Made your blood shrivel. Bosch
Held out a spidery hand and you took it
Timidly a bobby-sox American.
You saw right down to the Goya funeral grin
And recognised it and recoiled
As your poems winced into chill, as your panic
Clutched back towards college America.
So we sat as tourists at the bullfight
Watching bewildered bulls awkwardly butchered,
Seeing the grey faced matador, at the barrier
Just below us, straightening his bent sword
And vomiting with fear. And the horn
That hid itself inside the blowfly belly
Of the toppled picador punctured
What was waiting for you. Spain
Was the land of your dreams: the dust red cadaver
You dared not wake with, the puckering amputations
No literature course had glamorised.
The juju land behind your African lips.
Spain was what you tried to wake up from
And could not. I see you, in moonlight,
Walking the empty wharf at Alicante
Like a soul waiting for a ferry,
A new soul, still not understanding,
Thinking it is still your honeymoon
In the happy world, with your whole life waiting,
Happy, and all your poems still to be found.

Ted Hughes ? Birthday Letters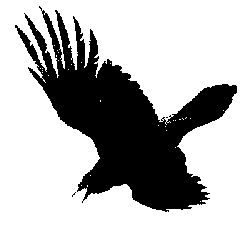 CROW'S UNDERSONG


She cannot come all the way


She comes as far as water no further


She comes with the birth push

Into eyelashes into nipples the fingertips
She comes as far as blood and to the tips of hair

She comes to the fringe of voice
She stays

Even after life even among the bones


She comes singing she cannot manage an instrument
She comes too cold afraid of clothes

And too slow with eyes wincing frightened
When she looks into the wheels


She comes sluttish she cannot keep house

She can just keep clean
She cannot count she cannot last


She comes dumb she cannot manage words

She brings petals in their nectar fruits in their plush
She brings a cloak of feathers an animal rainbow

She brings her fabourite furs and these are her speeches


She has come amorous it is all she has come for


If there had been no hope she would not have come


And there would have been no crying in the city


(There would be no city)


Ted Hughes, Crow.
SOTA ELS LLENÇOLS


Tancant els ulls tanca els meus ulls,
i em gire al llit cap al silenci.
A alguna part entre el meu cor i el terra
plora una nina que sóc jo i tremola
perquè comença el circ de les distàncies.
El cor del domador que ja no doma
redobla: veu l?angoixa
de l?acròbata disposada a fer el salt,
la pirueta impossible
de la Mariola al Monte Giabre.
Salta però no pot.
Tot es fa terra en la caiguda.
I les meues llàgrimes a la seua galta,
i les seues llàgrimes als meus ulls
són com dos rius paral?lels
que es giren als seus llits i corren
cap al silenci.